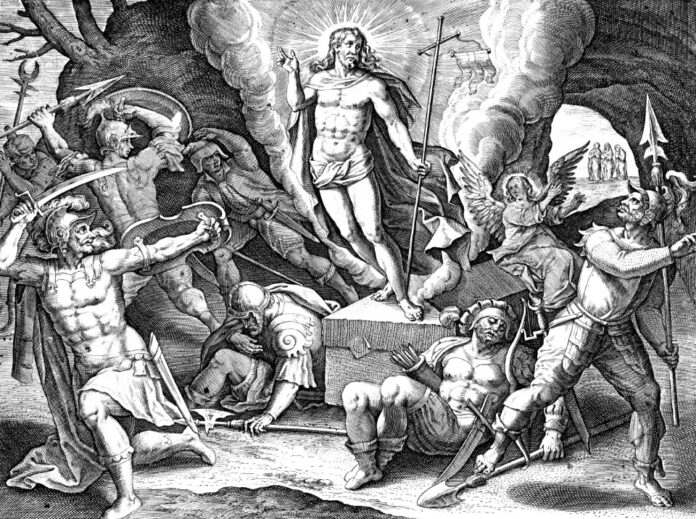 Oleh : AP
Matthew 28:4, 8, 12-14 The guards shook for fear of him and became like dead men.
And they left the tomb quickly with fear and great joy and ran to report it to His disciples…
And when they had assembled with the elders and consulted together, they gave a large sum of money to the soldiers,
and said, "You are to say, 'His disciples came by night and stole Him away while we were asleep. '
" And if this should come to the governor's ears, we will win him over and keep you out of trouble. "
Perenungan
Apa yang menjadi arti dari kebangkitan Yesus dari kematian?
Untuk para tentara penjaga kuburan ini adalah malapetaka…mereka ketakutan setengah mati dan melihat dan mengalami secara langsung peristiwa terbukanya kuburan dan hilangnya jasad Yesus melalui gempa yang dahsyat.
Bagi para tentara penjaga kebangkitan Yesus berarti akhir hidup mereka yang akan dihukum mati oleh atasan mereka….buat mereka kebangkitan Yesus adalah kegagalan hidup mereka dalam bertugas.
Ada perbedaan reaksi yang sebenarnya sama-sama bertugas sebagai penjaga…Penjaga kubur Yesus memilih untuk kompromi dengan dunia…tapi penjaga penjara tempat Paulus ditahan (sama-sama mengalami gempa yang dahsyat dan sama-sama mengalami malaikat yang membuka belenggu) memilih untuk bertobat dan dibaptis.
Penjaga yang satu mengalami kematian setelah melihat kebenaran…penjaga yang lain mengalami keselamatan (Kisah Para Rasul 16:30).
Penjaga-penjaga kubur Yesus berkonsultasi dan bersepakat dengan pemimpin-pemimpin agama dan berkompromi melawan kebenaran demi nyawa sendiri dan demi uang.
Kepala penjaga di Filipi memilih bertanggung jawab dan menyambut tawaran keselamatan dari Paulus …ia memilih kebenaran.
Yang satu memilih tetap dalam dosa dan kematian kekal…yang satu memilih keselamatan dan hidup kekal.
Keduanya mempunyai profesi yang sama, tanggungjawab yang sama, mengalami peristiwa dahsyat yang sama, problem yang sama, pilihan-pilihan yang sama.
Yang membedakan adalah pilihan yang tepat yang diambil…kepala penjara di Filipi memilih dengan bijaksana dan telah memillih yang terbaik.
Acts 16:27-34 When the jailer awoke and saw the prison doors opened, he drew his sword and was about to kill himself, supposing that the prisoners had escaped.
But Paul cried out with a loud voice, saying, "Do not harm yourself, for we are all here! "
And he called for lights and rushed in, and trembling with fear he fell down before Paul and Silas,
and after he brought them out, he said, "Sirs, what must I do to be saved? " [The Jailer Converted]
They said, "Believe in the Lord Jesus, and you will be saved, you and your household. "
And they spoke the word of the Lord to him together with all who were in his house.
And he took them that very hour of the night and washed their wounds, and immediately he was baptized, he and all his household.
And he brought them into his house and set food before them, and rejoiced greatly, having believed in God with his whole household.
Apa pilihan anda dan saya?
Perenungan Matius 28 tentang pilihan hidup atas peristiwa kebangkitan Yesus. (Ap)