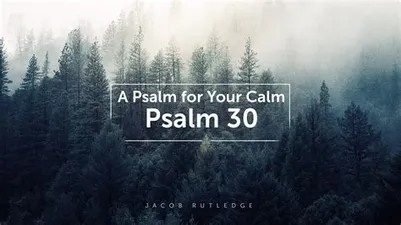 Oleh : AP
Pembacaan Mazmur 30
Jangan Sombong
Kesombongan membuat Tuhan marah dan mengusir Lucifer keluar dari surga dan jatuh ke bumi.
Kesombongan membuat raja-raja jatuh.
Kesombongan membuat orang kelihatan bodohnya.
Kesombongan membuat orang dijauhi teman-temannya.
Perenungan dan Penerapan
Pemazmur (Daud) pernah merasa sombong ketika ia berada di puncak, ketika ia sudah berhasil dan merasa aman.
Tetapi Tuhan tidak menyukainya.
Psalms 30:6-7 When I was prosperous, I said, "Nothing can stop me now! "
Your favor, O LORD, made me as secure as a mountain. Then You turned away from me, and I was shattered
Beruntunglah Daud cepat sadar dan menyesal ia bersujud dan bertobat..ia meminta Tuhan mengampuni kebodohannya.
Daud sadar bahwa karena Tuhanlah ia menjadi sembuh dan bisa menari ( bersukacita).
Dan Tuhanlah yang mengubah ratapan (kesedihan, kekecewaan, sakit penyakit) menjadi tarian (suka cita,kesembuhan).
Psalms 30:2, 8-12 O LORD my God, I cried to You for help, and You restored my health.
I cried out to You, O LORD. I begged the Lord for mercy, saying,
" What will You gain if I die, if I sink into the grave? Can my dust praise You? Can it tell of Your faithfulness?
Hear me, LORD, and have mercy on me. Help me, O LORD. "
You have turned my mourning into joyful dancing. You have taken away my clothes of mourning and clothed me with joy,
that I might sing praises to You and not be silent. O LORD my God, I will give You thanks forever!
Kesimpulan: Kesombongan tidak membawa manfaat apa-apa…butuh kesadaran dan pengendalian diri mengenai hal ini.