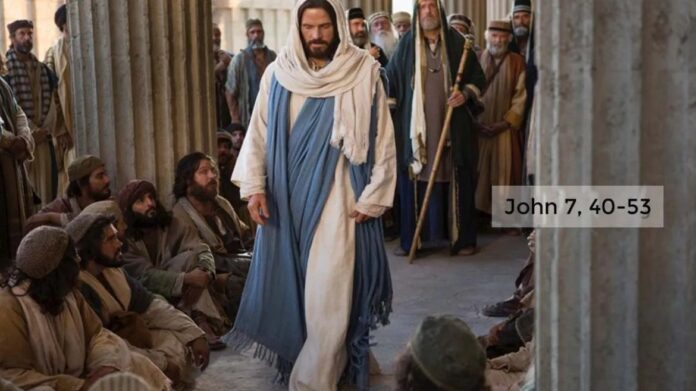 Oleh : AP
John 7:22-24, 48-52 " For this reason Moses has given you circumcision (not because it is from Moses, but from the fathers), and on the Sabbath you circumcise a man.
" If a man receives circumcision on the Sabbath so that the Law of Moses will not be broken, are you angry with Me because I made an entire man well on the Sabbath?
" Do not judge according to appearance, but judge with righteous judgment. "
" No one of the rulers or Pharisees has believed in Him, has he?
" But this crowd which does not know the Law is accursed. "
Nicodemus (he who came to Him before, being one of them) said to them,
" Our Law does not judge a man unless it first hears from him and knows what he is doing, does it? "
They answered him, "You are not also from Galilee, are you? Search, and see that no prophet arises out of Galilee. "
Perenungan
Seorang Pastor menguji jemaatnya dengan cara menyamar menjadi seorang tunawisma di depan Gereja yang digembalakannya.
Ia ingin menguji apakah khotbah tentang Kasih yang disampaikannya bisa dipraktekkan jemaatnya.
Tidak lama kemudian mulailah orang-orang yang datang ke Gereja itu mulai membawakan makanan, pakaian dan menginjili sang tunawisma ini.
Rupanya mereka tidak mengenali bahwa pengemis itu adalah Pastornya sendiri.
Ketika saat ibadah tiba maka pengemis ini maju ke atas mimbar dan membuka samarannya bahwa ia adalah Pastor Gereja tersebut.
Cerita ini menggambarkan bagaimana seseorang bisa mengasihi tanpa memandang rupa siapapun orangnya.
Yesus ketika di Bait Allah mengajarkan agar orang jangan menilai karena melihat rupa atau rasio tetapi menilailah karena kebenaran.
Orang Farisi menghakimi Yesus karena sangat mengandalkan rasio dan Hukum Taurat.
Bahkan Yesus mengatakan mereka munafik karena Hukum sunat Musa tetap dilakukan di hari Sabat juga tanpa dihakimi…tetapi ketika Yesus melakukan Kasih (mujizat) mereka menentang habis hal itu.
Penerapan
Pepatah mengatakan 'Dont Djudge the Book by Its Cover'.
Jangan menilai atau menghakimi hanya karena rupa seseorang atau gejala yang kita lihat.
Tetapi manusia Allah harus menilai segala sesuatu sesuai dengan Firman Tuhan sebagai Kebenaran bukan berdasarkan apa yang terlihat tetapi berdasarkan apa yang benar.
Paulus mengatakan bahwa suatu hari orang percaya akan menghakimi dunia ini…tetapi bukan dengan standar Dunia melainkan dengan standar Tuhan.
Karena itu Mari persiapan diri dengan lebih mengenal kebenaran Firman Tuhan lebih lagi sehingga kita bisa menilai segala sesuatu dengan benar.
1 Corinthians 6:1-3 Does any one of you, when he has a case against his neighbor, dare to go to law before the unrighteous and not before the saints?
Or do you not know that the saints will judge the world? If the world is judged by you, are you not competent to constitute the smallest law courts?
Do you not know that we will judge angels? How much more matters of this life?