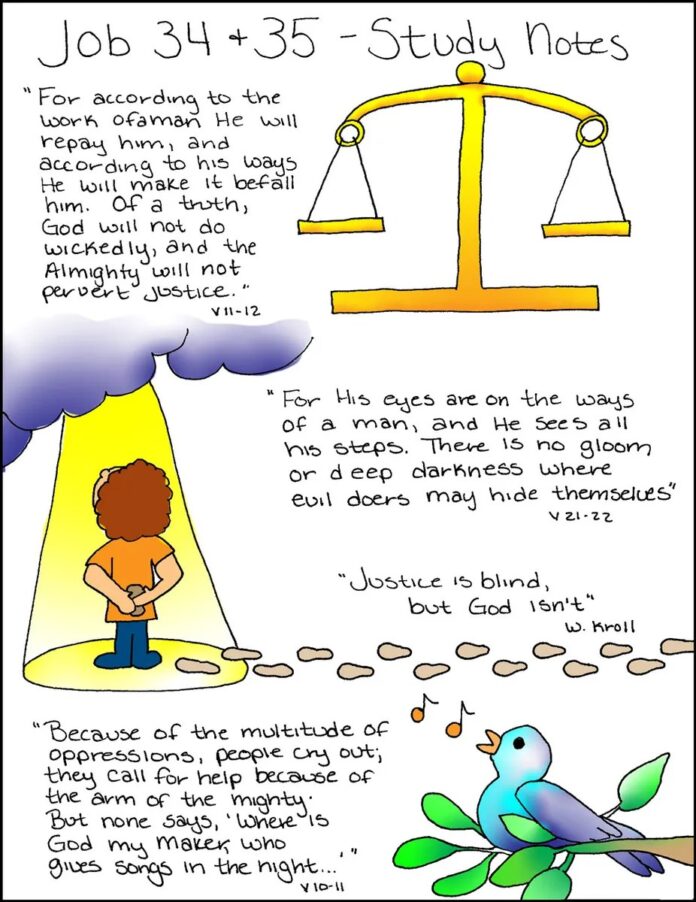 Oleh : AP
Pembacaan Ayub 35
Job 35:1-12 Then Elihu said:
" Do you think it is right for you to claim, 'I am righteous before God'?
For you also ask, 'What's in it for me? What's the use of living a righteous life? '
" I will answer you and all your friends, too.
Look up into the sky, and see the clouds high above you.
If you sin, how does that affect God? Even if you sin again and again, what effect will it have on Him?
If you are good, is this some great gift to Him? What could you possibly give Him?
No, your sins affect only people like yourself, and your good deeds also affect only humans.
" People cry out when they are oppressed. They groan beneath the power of the mighty.
Yet they don't ask, 'Where is God my Creator, the One who gives songs in the night?
Where is the One who makes us smarter than the animals and wiser than the birds of the sky? '
And when they cry out, God does not answer because of their pride.
Perenungan dan Penerapan
Elihu menyampaikan beberapa hal penting ketika ia mendengar perbincangan Ayub dengan ketiga sahabatnya.
Apakah kita boleh mengklaim diri kita sudah benar di hadapan Allah? (Ayat2)?
Apa gunanya kita hidup saleh di dunia ini?
Apakah Allah masih mendengar doa-doa orang yang tertindas? (Ayat 9)
Penerapan
Elihu mendapat hikmat bahwa sebenarnya keberadaan Allah tidak terpengaruh dengan kejahatan manusia…Ia tidak berubah.
Tetapi jeritan sesama kita yang ketika diperlakukan tidak adil, diperlakukan dengan jahat dengan penindasan …keluhan-keluhan dan jeritan-jeritan itu sampai ke telinga Allah. Dan Allah mendengar mereka.
Kesimpulan: Meskipun kedaulatan dan keberadaan Tuhan tidak berubah …Ia mendengar ketidakadilan dan penderitaan manusia di bumi ini.
Allah adalah Allah yang peduli dan mengharapkan semua manusia bisa kembali ke sisiNya…ia masih mendengar.
Sebaliknya Apakah kita masih mau mendengarkan suara Nya?
Kejadian 18:20 (TB) Sesudah itu berfirmanlah TUHAN: "Sesungguhnya banyak keluh kesah orang tentang Sodom dan Gomora dan sesungguhnya sangat berat dosanya.
Mazmur 95:7-8 (TB) Sebab Dialah Allah kita, dan kitalah umat gembalaan-Nya dan kawanan domba tuntunan tangan-Nya. Pada hari ini, sekiranya kamu mendengar suara-Nya!
Janganlah keraskan hatimu seperti di Meriba, seperti pada hari di Masa di padang gurun,