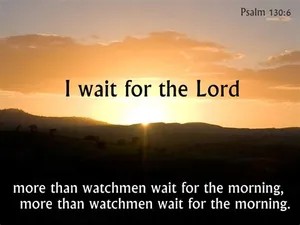 Oleh : AP
Psalms 130:1-8 [A song for pilgrims ascending to Jerusalem.] From the depths of despair, O LORD, I call for Your help.
Hear my cry, O Lord. Pay attention to my prayer.
LORD, if You kept a record of our sins, who, O Lord, could ever survive?
But You offer forgiveness, that we might learn to fear You.
I am counting on the LORD; yes, I am counting on Him. I have put my hope in His word.
I long for the Lord more than sentries long for the dawn, yes, more than sentries long for the dawn.
O Israel, hope in the LORD; for with the LORD there is unfailing love. His redemption overflows.
He Himself will redeem Israel from every kind of sin.
Perenungan
Semua orang mempunyai pergumulannya sendiri-sendiri. Manusia hidup dengan masalahnya.
Ada masalah karena perbuatan sendiri tetapi ada juga masalah yang datang dari luar.
Pertanyaannya adalah bagaimana sikap kita ketika menghadapi masalah tersebut dan kepada siapa kita bergantung ketika masalah itu muncul?
Penerapan
Ketika Daud menghadapi masalah besar ia melakukan langkah-langkah:
Mencari Tuhan (ayat 1-2)
Pertolongan kita yang paling sempurna adalah datang kepada Tuhan.. bukan kepada orang pintar, orang hebat tetapi pertama kali datang kepada Tuhan dalam doa.
Meminta pengampunan (ayat 4)
Mungkin kesulitan kita terjadi akibat dosa yang kita buat. Datang kepada Tuhan meminta ampun, rekonsiliasi.
Memulihkan hubungan dengan Tuhan.
Bergantung penuh kepada Tuhan (ayat 5-6)
Mengharapkan waktu pertolongan Tuhan dengan sungguh-sungguh.
Melihat bahwa pertolongan Tuhan bisa datang dengan berbagai cara ajaib.
Tuhan pasti menolong seperti pastinya datang pagi hari
Ingat janji Tuhan (ayat 7-8)
Janji Tuhan adalah Ya dan Amin bagi anak-anakNya yang berharap kepadaNya.
Teguhkan hati dan move on..