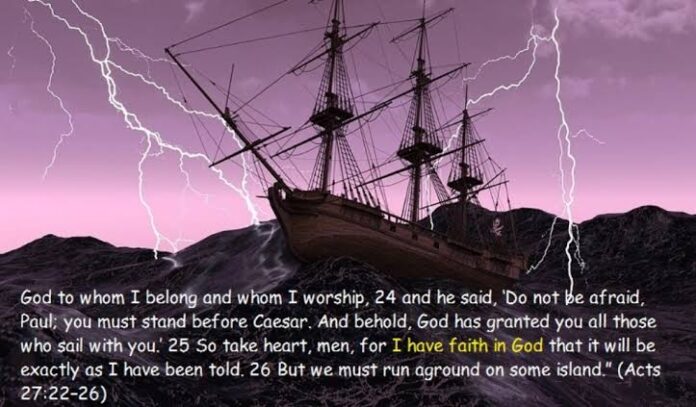 Oleh : AP
Acts 27:23-25 " For this very night an angel of the God to whom I belong and whom I serve stood before me,
saying, 'Do not be afraid, Paul; you must stand before Caesar; and behold, God has granted you all those who are sailing with you. '
" Therefore, keep up your courage, men, for I believe God that it will turn out exactly as I have been told.
Perenungan
Sewaktu badai menghantam kehidupan maka Paulus mengajak semua orang yang bersamanya untuk sama-sama beriman kepada Tuhan.
Paulus menyampaikan Pesan Tuhan yang ia sembah bahwa semua orang mendapat Kasih Karunia oleh karena Paulus harus sampai ke Roma.
Suatu kepastian yang dijanjikan Tuhan dan membuat semua orang mempunyai harapan untuk hidup kembali.
Penerapan
Orang percaya ditempatkan untuk menjadi terang.
Terang itu yang membuat orang-orang dalam kegelapan juga melihat terang sehingga mereka mempunyai harapan baru.
Dan semua orang melihat dan memuliakan Tuhan .(Ap)