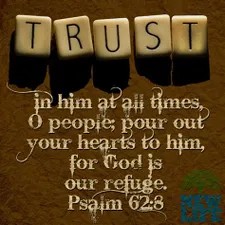 Oleh : AP
Psalms 62:5-8, 10 Let all that I am wait quietly before God, for my hope is in Him.
He alone is my rock and my salvation, my fortress where I will not be shaken.
My victory and honor come from God alone. He is my refuge, a rock where no enemy can reach me.
O my people, trust in Him at all times. Pour out your heart to Him, for God is our refuge. Interlude
Don't make your living by extortion or put your hope in stealing. And if your wealth increases, don't make it the center of your life.
Perenungan
Psalms 62:3-4 So many enemies against one man–all of them trying to kill me. To them I'm just a broken-down wall or a tottering fence.
They plan to topple me from my high position. They delight in telling lies about me. They praise me to my face but curse me in their hearts. Interlude
Daud menuliskan Mazmur yang menceritakan bahwa menjadi anak Tuhan bukan berarti bebas dari permusuhan atau aman-aman saja.
Justru menjadi pengikut Tuhan artinya sudah berada di posisi peperangan dengan si Jahat.
Bahkan ada orang-orang jahat yang berusaha menjatuhkan anak-anak Tuhan.
Tetapi Daud selalu meminta perlindungan dan pertolongan Tuhan dalam hidupnya.
Penerapan
Ada dua peperangan yang perlu disadari dalam kehidupan anak-anak Tuhan.
Musuh dari Luar
Peperangan melawan musuh
Ada kejahatan, keirihatian dari luar diri kita yang tidak suka dengan anak-anak Tuhan yang bergerak dan memakai prinsip Kerajaan Allah.
Kita harus terus berdoa meminta perlindungan Tuhan.
Musuh dari dalam
Peperangan dari dalam diri sendiri.
Daud mengingatkan bahwa dalam hidup ini (ayat 10) kita jangan memeras dan mencuri barang, milik atau kehidupan orang lain.
Dan jangan menjadikan harta yang bila bertambah banyak jadi ilah dalam kehidupan kita.