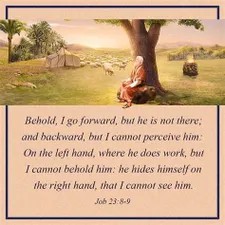 Oleh : AP
Pembacaan Ayub 23
Job 23:8-9, 17 I go east, but He is not there. I go west, but I cannot find Him.
I do not see Him in the north, for He is hidden. I look to the south, but He is concealed.
Darkness is all around me; thick, impenetrable darkness is everywhere.
Perenungan
Seringkali dalam keadaan lelah, capai, sakit, menderita…manusia lebih sering menyalahkan Tuhan atas perkara yang terjadi.
Mungkin kita lebih sering meneriakan perkataan di manakah Tuhan atas ketidakadilan atas hidup kita.
Ayub ingin berperkara dengan Tuhan tetapi ia mencari kemana-mana dan mengakui ia tidak bisa menemukanNya ….ia seperti orang dalam kegelapan yang pekat tidak bisa melihat cahaya terang.
Penerapan
Yes 55:6 berkata carilah Tuhan selama Ia berkenan ditemui, berserulah kepadaNya selama ia dekat!
Roma 10:8 (TB) Tetapi apakah katanya? Ini: "Firman itu dekat kepadamu, yakni di dalam mulutmu dan di dalam hatimu." Itulah firman iman, yang kami beritakan.
Ulangan 30:14 (TB) Tetapi firman ini sangat dekat kepadamu, yakni di dalam mulutmu dan di dalam hatimu, untuk dilakukan.
Kesimpulan:
Sulit bagi seseorang yang di dalam kegelapan untuk bisa melihat terang Tuhan dan keberadaanNya.
Harus ada hati yang bertobat dan menyesal, hati yang mau mengaku dosa dan mengakui di hadapan Tuhan.
Ketika Sang Terang itu masuk dalam hidup kita maka Tuhan itu sedekat hati dan sedekat mulut kita.